Resultados Pre-Selección OAA 2023
Nos comunicamos con Uds. para informarles los resultados correspondientes a la etapa de Pre-Selección de la Olimpíada Argentina de Astronomía (OAA) 2023.
En el adjunto encontrarán la lista de estudiantes que serán convocad@s para la etapa final-presencial que se realizará en el Observatorio Astronómico de Córdoba entre los días 8 y 10 de Noviembre de 2023. La lista está ordenada según el orden de mérito alcanzado entre tod@s l@s alumn@s.
Desde ya le hacemos llegar nuestras felicitaciones a tod@s s l@s alumn@s que han participado y l@s esperam@s el año que viene. La OAA enviará por correo electrónico un certificado de participación a cada estudiante y tutor/a.
Consultar los resultados en nuestra página web https://oaa.oac.unc.edu.ar/2023/09/26/resultados-de-los-examenes-de-preseleccion-2023-modalidad-teorico-practica/
---------------------------------------
3er Taller de Astronomía más allá de los sentidos comunes para la accesibilidad y la inclusión
El III Taller sobre Astronomía más allá de los sentidos comunes para la accesibilidad y la inclusión se realizará los días 29 y 30 de noviembre de 2023, en el Planetario de Montevideo, Uruguay, como parte de la XVII Reunión Regional Latinoamericana de la IAU.
La astronomía, con sus alucinantes conceptos y su potencial para comprender el mundo natural, es un derecho humano, y este taller continúa nuestra misión de hacerla accesible e inclusiva. Esta reunión interdisciplinaria da la bienvenida a astrónomos, educadores y especialistas en discapacidad para elaborar estrategias para la inclusión, promover la diversidad y la equidad, explorar el lado artístico de la astronomía e interactuar con oradores de renombre como la profesora Shirin Haque y Carlos Morales Socorro.
Las charlas serán en español, portugués o inglés, y las actas se publicarán en la Revista Mexicana de Astronomía y Astrofísica - Serie de Conferencias.
Nuestro compromiso con el respeto, la inclusión y la diversidad está respaldado por el Código de conducta de la IAU. L@s invitamos a ser parte de este movimiento transformador;
Fecha límite de envío de resúmenes (charlas y posters): 1 de noviembre de 2023
Fecha límite de inscripción: 15 de noviembre de 2023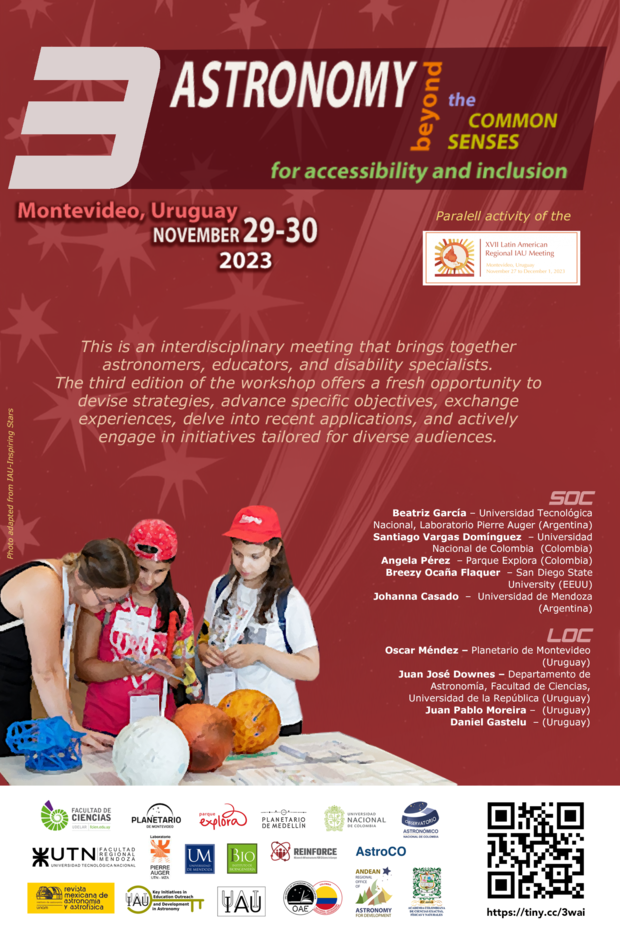 --------------------------------------
Opportunities of potential interest to Division C
Dear colleagues,
We are pleased to provide information about a number of unique events of interest to the Division C community, 1. 100 Hours of Astronomy 2023, 2. the UN Science Summit of the United Nations General Assembly (UNGA78) and 3. the third Workshop on Astronomy Beyond the Common Senses for Accessibility and Inclusion.
Please read below for access information and how to get involved.
We hope that you will be able to take advantage of these opportunities!
Best regards on behalf of Division C,
Richard de Grijs (President)
1. 100 Hours of Astronomy 2023
From 1 to 4 October 2023, the IAU Office for Astronomy Outreach (OAO) will continue the legacy of celebrating 100 Hours of Astronomy (https://www.iau.org/public/oao/100-hours-of-astronomy/). This year's theme is One Planet. We aim to create an experience that fosters a sense of unity, connection, and togetherness among the public, inspired by the camaraderie astronauts feel when returning from space missions, called the Overview Effect. This series of events will celebrate the beauty of our shared planet and promote global cooperation, environmental stewardship, and a collective commitment to a better future.
The Overview Effect
The Overview Effect[*1] is a term coined to describe a profound and transformative shift in consciousness that astronauts often experience when viewing the Earth from space. It is a cognitive and emotional response to the breathtaking sight of our planet from orbit or the Moon. Key aspects of the Overview Effect include:
· Awe and Unity: Astronauts describe an overwhelming sense of awe and unity as they gaze upon Earth from space. They see the planet as a fragile and interconnected ecosystem devoid of boundaries and divisions.
· Increased Environmental Awareness: The experience fosters a deep appreciation for Earth's beauty and a heightened awareness of environmental challenges. Many astronauts return to Earth with a strong commitment to protecting the environment.
· Shift in Perspective: The Overview Effect often leads to a shift in perspective, where individuals recognise the insignificance of individual conflicts and the importance of cooperation to address global issues.
· Spiritual and Philosophical Insights: Some astronauts describe the experience as spiritual or philosophical, leading to a reevaluation of their life's purpose and a sense of interconnectedness with all living beings.
· Motivation for Space Exploration: The Overview Effect has also served as motivation for further space exploration, as astronauts return with a sense of responsibility to explore space while ensuring the preservation of Earth.
The Overview Effect underscores the profound impact that space travel can have on the human perspective and underscores the importance of safeguarding our planet and working collaboratively to address global challenges.
100 Hours Astronomy IAU Calendar of Outreach Global Events Submission
Once again, we will host a global map of events in which you can share your work with the world and be a part of the OAO's 100 Hours of Astronomy! If your event is open to the public, be sure to leave enough information for people to get involved - both in person and online! The first 50 events that enter their information will receive goodies from the OAO, including printed copies of the most recent CAPjournal issues. Be safe[*2], be inclusive, and share your event with the world! Add your event at this link (https://docs.google.com/forms/d/e/1FAIpQLSfilX80wIa9wpNIvg54_WpvzHI-9p9zpBRAVmlI4ghKovrI5w/viewform?usp=sf_link).
IAU OAO 100 Hours Art Projects Competition
We are excited to offer participants the opportunity to engage in a collaborative art project that symbolises unity and interconnectedness. This project will allow us to create a collective artwork that embodies the festival's theme of astronomy and the overview effect. We ask you to create a piece of art: a painting, picture, poem, video, or any other creative medium. For your piece of art to be included, it must be submitted through this form (https://docs.google.com/forms/d/e/1FAIpQLSewV3DjrtKNu506cln_U_02j_n8EkKfjuoFJb56T6dEGq7TVw/viewform?usp=sf_link), along with a picture or link to a video before 10 October 2023, 23:59 UTC. By sending us your piece of art, you agree for it to be shared on the IAU OAO social media pages, with your name linked to it. We will randomly select two entries to win a telescope courtesy of Sterren Schitteren Voor Iedereen (https://www.ssvi.be/) (Stars Shine For Everyone - SSVI), University Ghent - Dept. Physics and Astronomy,(https://www.ugent.be/we/physics-astronomy/en) Leiden University (https://www.universiteitleiden.nl/en/science/astronomy/pubout ), and BRESSER (https://www.bresser.de/en/Brand/Bresser/ ).
Activity ideas
Do you need some ideas for your astronomy outreach event? Look through the community-driven ideas in our Office for Astronomy Outreach Toolkit (https://drive.google.com/file/d/1q2SAChhpY6WbbYmB20rnzsYbpWCiTcgb/view?usp=share_link). If you have developed or know of any exciting astronomy outreach activity format, please share it with the community (https://forms.gle/zrjeBVJe8CUcM6vJ6). Additionally, you can look through last year's events at the 100 Hours of Astronomy 2022 page (https://iau.org/public/oao/100-hours-of-astronomy-2022/ ).
Let us share your work!
When spreading the word about your event on social media, be sure to use #100HoursOfAstronomy and #IAUoutreach so we can help promote your activity, too!
Stay tuned to OAO's social media channels (Facebook(https://www.facebook.com/IAUoutreach/) and Twitter(https://twitter.com/IAU_Outreach )) as we release more information and resources in the upcoming weeks.
Notes
[1] Yaden, D. B., Iwry, J., Slack, K. J., Eichstaedt, J. C., Zhao, Y., Vaillant, G. E., & Newberg, A. B. (2016). The overview effect: Awe and self-transcendent experience in space flight. Psychology of Consciousness: Theory, Research, and Practice, 3(1), 1.
[2] Please follow the health measures recommended by your country or local area when joining the 100 Hours of Astronomy activities.
Reply-To Contact & Email:
Andrea Girolamodibari
100 Hours of Astronomy 2023 Project Manager
Email: public@oao.iau.org
Kelly Blumenthal
OAO Acting Director
Email: blumenthal.kelly@oao.iau.org
Tel: +81 80 8841 3569
2. UN Science Summit of the United Nations General Assembly (UNGA78)
Session: Why Decolonize Science? Perspectives from Astronomy
Event: UN Science Summit of the United Nations General Assembly (UNGA78)
Date: Thursday, September 28, 2023
Time: 09:00-10:00 UTC
Colonial practices are embedded in many aspects of scientific engagements, from research, policy, education, and outreach. How many of these practices are embedded in the astronomy community and science? Is there an urgent need to redesign the system to advance astronomy science inclusively? What can astronomers and decision-makers do for a positive change? In this session, experts from three regions will discuss perspectives from astronomy that reflect colonial practices.
Speakers:
Dr. Thilina Heenatigala, Earth-Life Science Institute (ELSI)
Dr. Tana Joseph, University of Amsterdam
Dr. Pedro Russo, Leiden University/Ciência Viva
Registration and info: https://sciencesummitunga78.sched.com/event/1SH3S
3. Workshop on Astronomy Beyond the Common Senses for Accessibility and Inclusion
Join us for the III Workshop on Astronomy Beyond the Common Senses for Accessibility and Inclusion on November 29-30, 2023, in Montevideo, Uruguay, as part of the XVII Latin American Regional IAU Meeting. Astronomy, with its mind-blowing concepts and potential to understand the natural world, is a human right, and this workshop continues our mission to make it accessible and inclusive.
This interdisciplinary meeting welcomes astronomers, educators, and disability specialists to strategize for inclusion, promote diversity and equity, explore the artistic side of astronomy, and engage with renowned speakers like Professor Shirin Haque and Carlos Morales Socorro. Talks will be in Spanish, Portuguese, or English, with proceedings published in the Revista Mexicana de Astronomía y Astrofísica - Conference Series. Our commitment to respect, inclusion, and diversity is upheld by the IAU Code of Conduct. Be part of this transformative movement; save the important dates and help us make astronomy accessible to all!
Abstract submission deadline (contributed talk and posters): November 1, 2023
Registration deadline: November 15, 2023
Registration is free, and the workshop is hybrid, so you can join us in person or virtually!
You are still on time to register and submit your contribution.
More info: https://tiny.cc/3wai or email svargasd@unal.edu.co (SOC-Chair)
------------------------------------
FRIENDS OF FRIENDS 2024 - FIRST ANNOUNCEMENT
Dear colleagues,
We are pleased to announce that the 13th edition of the Friends of Friends Annual Meeting (https://fof.oac.uncor.edu/2024/) will be held from April 8th to April 12th, 2024, at the Observatorio Astronómico, Universidad Nacional de Córdoba, in the beautiful city of Córdoba, Argentina.
The FoF is a yearly international eeting co-organized by the Instituto de Astronomía Teórica y Experimental (IATE) and the Observatorio Astronómico de Córdoba (OAC). Its primary goal is to facilitate meaningful interactions among members of both the local and global astronomical communities, fostering collaborative networks in a warm and inviting environment.
As is our tradition, registration remains free, guaranteeing accessibility to all who are interested in participating. To register please fill in the registration form: https://fof.oac.uncor.edu/2024/info/.
For a detailed look at the list of confirmed speakers, we cordially invite you to visit: https://fof.oac.uncor.edu/2024/program/invited-speakers/.
IMPORTANT DATES:
September 15th 2023: registration and abstract submission open.
February 1st 2024: abstract submission closes.
March 1st 2024: registration closes.
SCIENTIFIC and LOCAL ORGANIZING COMMITTEE for the 13th edition of the FoF meeting:
Laura Baravalle (IATE), Viviana Bertazzi (IATE), Emiliano Jofré (OAC), Adriana Rodriguez Kamenetzky (IATE), Cecilia Ortiz (OAC), Romina Petrucci (OAC), Carlos Valotto (IATE), Carolina Villalon (IATE), Carolina Villarreal D'Angelo (IATE), Ernesto Zurbriggen (IATE)
CONTACT: We encourage you to share this announcement with colleagues and students who might be interested.
If you have any questions, please don't hesitate to reach out to the Organizing Committee at: fof@observatorio.unc.edu.ar.
--------------------------------

XII Taller de Ciencias Planetarias - 1ra. Circular
Estimados colegas:
El XII Taller de Ciencias Planetarias se llevará a cabo entre los días 26 de febrero al 1 de marzo de 2024, en la sede del Observatorio Nacional, en Río de Janeiro, Brasil. Esta Primera Circular contiene algunas informaciones generales y fechas importantes.
Objetivo
El principal objetivo del Taller es reunir a los investigadores sudamericanos que trabajan en los aspectos teóricos, computacionales y observacionales de los diferentes objetos que componen los sistemas planetarios. Se promueven discusiones sobre el estudio de las propiedades físicas y químicas, la evolución orbital y los procesos de formación de planetas y cuerpos menores como cometas, asteroides y meteoros, tanto en el Sistema Solar como en sistemas extrasolares. El Taller también fomenta la participación de estudiantes de pregrado y posgrado, impulsando la colaboración científica y académica entre los diversos grupos de ciencia planetaria de la región.
Programa preliminar
A lo largo de los 5 días del evento, están previstas entre 10 y 12 presentaciones orales largas, de 40 minutos (30+10), unas 35 presentaciones orales cortas, de 20 minutos (15+5), 1 mesa redonda sobre tema a definir, 3 sesiones de posters y 2 charlas de divulgación. El evento comienza el lunes 26/02 a las 14h y termina el viernes 01/03 a las 12h.
Modalidad
El Comité Científico decidió que la modalidad de participación será presencial. La posibilidad de participación en forma remota será considerada solamente en casos excepcionales y deberá ser solicitada y justificada por e-mail.
Inscripción y envío de resúmenes
El período para inscripción y envío de resúmenes es del 12 de septiembre al 31 de octubre de 2024. Para inscribirse es necesario llenar el formulario disponible en el siguiente link: https://forms.gle/FZr1HJmznT9nnG6m9
El resumen del trabajo debe ser adjuntado en el propio formulario, solamente en formato PDF. Caso desee enviar más de un resumen, será necesario hacer una inscripción separada para cada resumen. Se recomienda que, siempre que sea posible, el resumen sea enviado por el primer autor del trabajo.
El resumen podrá ser enviado en español, portugués o inglés.
Para preparar el resumen, deberán ser usados los templates de LaTeX disponibles en el siguiente link:
https://drive.google.com/file/d/1ZreofDsjQG_UJXlbBLCFmJ_OoHqZolAJ/view?usp=drive_link
Usuarios de Overleaf también pueden acceder a los templeates a través del siguiente link
https://www.overleaf.com/latex/templates/template-xxiitaller/nfdfszmbpnvt
Tasa de inscripción
Los valores fijados para la tasa de inscripción son los siguientes:
Profesor/Investigador: R$ 200
Posdoc: R$ 150
Estudiante de doctorado: R$ 100
Estudiante de maestría: R$ 60
Estudiante de grado: gratis
Otros: R$ 200
Instrucciones para el pago de la tasa de inscripción serán enviadas posteriormente, tras el cierre de las inscripciones. Pedidos de exención de tasa de inscripción deberán ser enviados por e-mail y serán analisados caso a caso.
Obs.: al día de hoy, 1 dólar equivale aproximadamente a R$ 5
Pedidos de ayuda económica
Los organizadores están analizando la posibilidad de dar un número limitado de auxílios parciales, para permitir la participación presencial, principalmente de estudiantes de grado que presenten trabajo. Los pedidos de auxilio deben ser realizados a través del siguiente formulario: https://forms.gle/7G6yMrd2jW2n5VD67
El plazo para envío de pedidos de ayuda económica es del 12 de septiembre al 15 de octubre de 2024.
Alojamiento, transporte y alimentación
Los organizadores están buscando opciones de alojamiento accesibles en los barrios de Copacabana y Botafogo.
Durante todo el evento, habrá un servicio de transporte gratuito 2 veces por día, de mañana y de tarde, entre ciertos puntos específicos de esos barrios y el Observatorio Nacional.
Para el horario de almuerzo, el restaurante del Observatorio Nacional colocará a disposición un menú con precio diferenciado.
Contacto
Dudas, preguntas y pedidos específicos serán atendidos por e-mail: tallercp2024@gmail.com
Informaciones adicionales están disponibles en el sitio web del evento.
Comitê Organizador Local
XII Taller de Ciencias Planetarias
-----------------------------------
JEHA II - Cuarta Circular
-----------------------------------
Reunión SuperVirtual 2023: FIRST ANNOUNCEMENT
Dear colleagues,
We are delighted to make the first announcement for SuperVirtual 2023. The meeting will be held in virtual mode from November 6th to 10th, 2023.
As in SuperVirtual 2022, SuperVirtual 2023 will cover both core-collapse and thermonuclear supernovae, as well as some of the novel transients that are being found by current surveys. While in person conferences are now thankfully resuming, we hope that this online-only meeting will continue to provide a useful addition. In particular we intend for SuperVirtual 2023 to offer an opportunity to attendees who have travel or financial restrictions. SuperVirtual 2023 aims to organise a conference that is as inclusive and participatory as possible. It is planned that both the selection of focus topics and that of contributed speakers will make significant use of participant input - more details of this will be circulated at a later date. Please note that the time zone of the conference has been changed from 2022, and for this year we will start each day at 14:00 UTC. This is to allow those in unfavourable time zones last year to connect at a more comfortable time.
For more information, please visit the conference website.
https://sites.google.com/view/supervirtual2023/
Organization committee
Joe Anderson (European Southern Observatory, Chile)
Melina Cecilia Bersten (National University of La Plata, Argentina)
Janet Ting-Wan Chen (National Central University, Taiwan)
Morgan Fraser (University College Dublin, Ireland)
Kate Maguire (Trinity College Dublin, Ireland)
Raffaella Margutti (University of California, Berkeley, USA)
Takashi Moriya (National Astronomical Observatory of Japan, Japan)
Ken Shen (University of California, Berkeley, USA)
Scientific Rationale
Wide-field transient surveys are currently delivering large statistical samples of supernovae (SNe), while also discovering peculiar and exotic events. New and up-coming facilities will provide another leap in sample sizes or afford new observations at distinct wavelengths and out to late epochs. Samples of 'standard' supernovae enable strong constraints on their progenitor properties and explosion mechanisms. Meanwhile, the discovery of peculiar explosions often challenges our application of standard SN physics to such emerging classes. In addition, the early detection of nearby transients can lead to a plethora of constraints on progenitors, explosion mechanisms, and stellar evolution - as exemplified by the recent case of SN2023ixf. SuperVirtual 2023 will address many of these developments - providing a review of SN observations and physics, while exploring the limits of our current understanding of the processes driving SN diversity.
There is now strong consensus that the majority of hydrogen-rich SNeII arise from massive red supergiant stars. However, there is still disagreement on the exact mapping from progenitor and explosion properties to transient characteristics. The last decade has seen mounting evidence that at least a significant fraction of stripped-envelope-SNe arise from binary systems, although which envelope-mass stripping process dominates for which progenitors is still debated. In addition, it now appears that ejecta-CSM interaction is not only important for our understanding of narrow-line SNeIIn, but may also be critical for many other SN types - especially at early times in their evolution. This understanding is being enhanced by advances in survey and follow up capabilities - observations of which will be discussed at this meeting.
Knowledge of the progenitors and explosion mechanisms of SNeIa continues to grow, with larger statistical samples in addition to higher quality data of individual explosions. Such data includes observations within hrs/days of explosion, affording investigation into the prevelance of early 'excess emission' that constrains the progenitor scenario. Very late-time observations constrain the isotopic abundances produced in SNeIa, thus constraing the explosion mechanism. However, it is still unclear which progenitor systems produce the bulk of the SNIa population. This conference will provide a platform to discuss new observations, progenitor and explosion modelling, and possible future strategies to constrain the SNIa phenomenon.
The number of 'non-standard' SNe also continues to grow. Samples now exist of exotic explosions such as superluminous SNe (SLSNe) and SNeIbn. However, in the former it is still unclear which powering mechanism enables such large luminosities, while the properties of the latter challenge our understanding of late-time stellar evolution. Meanwhile, the diversity and number of 'peculiar' thermonuclear SNe continues to grow - from SNIax to .Ia explosions. SuperVirtual 2023 will motivate discussion on the state of the art of the explosion physics and progenitor evolution required to explain these diverse events. There are also a number of classes where only a few well-observed events exist. 'Fast transients' (coming in different flavours with different nomenclature - e.g. 'FBOTs') have timescales making them difficult to observe, but additionally have properties that are difficult to understand without invoking exotic physical scenarios. One of the most recent additions to the SN family is the SNIcn class, which further stretches the family of SNe that are significantly affected by ejecta-CSM interaction. Finally, together with these new classes, a larger number of SNe are discovered with specific features that also require an extension of any standard SN model - e.g. short timescale modulations in light curve shapes.
A full understanding of the SN phenomenon and its diversity is only possible through comparing transient observations with predictions from explosion models and stellar evolution. At SuperVirtual 2023, SN observations will be confronted with the latest modelling of stellar explosions to survey the current landscape of SNe, their numerous different classes, and their progenitor populations.
SuperVirtual 2023 aims to organise a conference that is as inclusive and participatory as possible. It is planned that both the selection of focus topics and that of contributed speakers will make significant use of participant input - more details of this will be circulated at a later date.
-----------------------------------
Historia de la Astronomía
Se ha agregado una nueva entrada en Historia de la Astronomía en el siguiente enlace:
http://historiadelaastronomia.wordpress.com/
-------------------------------------
CosmoPalooza, October 2-5, 2023
Dear Colleagues,
We are pleased to announce the second edition of CosmoPalooza, a webinar series showcasing the latest updates from the major large scale cosmological surveys and collaborations. Freely accessible by anyone, anywhere in the world. The agenda includes updates from ACT, DESI, DES, Euclid, PFS, Rubin Observatory & DESC, Pantheon + Sh0ES.
The sessions will take place from 7:00 am PDT to 9:30 am PDT (10:00 am to 1:30 pm EDT ; 4:00 pm to 6:30 pm Europe ; 11:00 pm to 1:30 am +1D Korea/Japan ) every day, Monday to Thursday Oct 2-5, 2023. Please save those dates!
The webinar links will be made available at a later date. Click this link to join a Google Group mailing list in order to receive CosmoPalooza related news. Note that you need to be logged in to a Google Account at the time to see the "join the group" button.
You can find all relevant information at any time on https://cosmopalooza.lbl.gov/.
Regards,
The organizers:
Satya Gontcho A Gontcho (satyagontcho@lbl.gov)
Anthony Kremin (akremin@lbl.gov)
-------------------------------------------
Registration Now Open for the 4th Regional Extragalactic Astronomy Meeting: 60 Years Of The Sersic Law
We are pleased to announce that registration for the "4th Regional Extragalactic Astronomy Meeting: 60 Years Of The Sersic Law" is now officially open. This event will take place in Córdoba, Argentina, from December 4th to 7th of this year. Those interested in participating in this meeting can register their attendance through our official website:
https://extragalacticmeeting.conicet.unc.edu.ar.
We invite you also to submit your abstracts for oral presentations and posters. If you have any questions or require further information, please do not hesitate to contact our organizing committee at sersic2023@iate.conicet.unc.edu.ar
Local Organizing Committee
------------------------------------