Otras Novedades
17th S-PLUS Collaboration Meeting
Estimad@s:
Espero que se encuentren muy bien.
Por este medio quisiera ponerlos en conocimiento que entre los días 29 y 31 de Agosto próximos, se llevará a cabo, en forma tanto presencial como virtual, el 17th S-PLUS Collaboration Meeting. Pueden encontrar toda la información relacionada con el encuentro en el siguiente link:
La fecha límite para el envío de resúmenes es el próximo 14 de Agosto.
La fecha límite de inscripción es el próximo 21 de Agosto.
Cualquier consulta, no duden en escribirme.
Saludos cordiales.
Analía Smith Castelli
(en representación del Comité Organizador del 17th S-PLUS Collaboration Meeting)

---------------
Dra. Analia Smith Castelli
Investigadora Independiente - CONICET
Instituto de Astrofisica de La Plata, UNLP-CONICET
Facultad de Ciencias Astronomicas y Geofisicas, UNLP
Paseo del Bosque s/n, La Plata, Buenos Aires, Argentina (B1900FWA)
email: asmith@fcaglp.unlp.edu.ar
-------------------------------------------
Historia de la astronomía
Se ha agregado una nueva entrada en Historia de la Astronomía, invitamos a visitar el sitio: http://historiadelaastronomia.wordpress.com/
--------------------------------
Anuncio de workshop internacional
Estimados,
Les solicitamos difusión de la siguiente información.
Durante los días 15 al 18 de noviembre próximo se realizará en CABA un workshop internacional organizado por el Instituto Argentino de Radioastronomía, titulado "IAR and prospects of low-frequency radio astronomy in South America"; más información en https://congresos.unlp.edu.ar/iar60ws/
-----------------------------------
Taller de Escritura Científica
Fecha límite de inscripción: 15-08-2022
Requisitos: Investigadores independientes e investigadores participantes del sector académico de todas las áreas temáticas, investigadores en formación (becarios y tesistas), docentes y profesionales.
Más información: https://www.conicet.gov.ar/oportunidades-y-becas/publicacion/263/cursospostgrados/
--------------------------------
VLTI-HOW: Second Announcement
Dear Colleagues,
we are pleased to announce VLTI-HOW: The VLTI High angular resolution Observations Workshop, which will take place at ESO Vitacura, Santiago, Chile on October 10 - 21, 2022.
Applications can now be submitted at: http://www.eso.org/sci/meetings/2022/VLTI-How/registration/application-open.html
The predominantly hands-on workshop aims at training a new generation of scientists from Chile and Latin American countries how to access, analyse, and use Very Large Telescope Interferometer (VLTI) data for their research projects. The curriculum will also cover topics important for career development such as proposal and grant writing, job hunting, and work ethics. Moreover, the workshop will encourage new scientific collaborations across nations.
ESO's Very Large Telescope Interferometer (VLTI) is the state of the art of Infrared Interferometry. With its second-generation instruments (PIONIER, GRAVITY, MATISSE) and undergoing a major upgrade, the VLTI will play a key-role in the ELT era and beyond 2030.
The workshop is specifically addressed at last year undergraduates, master students, Ph.D. students, post-doctoral fellows and young researchers from Latin America. Board and lodging of the participants are covered by the workshop; limited support for travel costs is also available.
Best regards,
Claudia Paladini, Itziar de Gregorio Monsalvo and Konrad Tristram (on behalf of the SOC)
URL: http://www.eso.org/sci/meetings/2022/VLTI-How.html
E-Mail: vlti-how@eso.org
------------------------------------
SuperVirtual 2022: FIRST ANNOUNCEMENT
Dear colleagues,
Following the success of the SuperVirtual 2021 conference last year, we are delighted to make the first announcement for SuperVirtual 2022: "SuperVirtual 2022 - From Common to Exotic Transients". The meeting will be held in virtual mode from November 7th to 11th, 2022.
SuperVirtual 2022 will cover both core-collapse and thermonuclear supernovae, as well as some of the novel transients that are being found by current surveys. While in person conferences are now thankfully resuming, we hope that this online-only meeting will continue to provide a useful addition. In particular we intend for SuperVirtual 2022 to offer an opportunity to attendees who have travel or financial restrictions.
SuperVirtual 2022 aims to organise a conference that is as inclusive and participatory as possible. It is planned that both the selection of focus topics and that of contributed speakers will make significant use of participant input - more details of this will be circulated at a later date.
Please note that the time zone of the conference has been changed from 2021, and for this year we will start each day at 21:00 UTC. This is to allow those in unfavourable time zones last year to connect at a more comfortable time (while still being suitable for as many locations as possible).
For more information, please visit the conference website.
https://sites.google.com/view/supervirtual2022/
If you wish to receive updates on SuperVirtual 2022, please register your email address here.
https://forms.gle/WQsqikRxffAjqFdZ9
Organization committee
Joe Anderson (European Southern Observatory, Chile)
Melina Cecilia Bersten (National University of La Plata, Argentina)
Janet Ting-Wan Chen (Stockholm University, Sweden)
Morgan Fraser (University College Dublin, Ireland)
Kate Maguire (Trinity College Dublin, Ireland)
Raffaella Margutti (University of California, Berkeley, USA)
Takashi Moriya (National Astronomical Observatory of Japan, Japan)
Ken Shen (University of California, Berkeley, USA)
Scientific Rationale
Wide-field transient surveys are currently delivering large statistical samples of supernovae (SNe), while also discovering peculiar and exotic events. Samples of 'standard' core-collapse events afford strong constraints on their progenitor properties and explosion mechanisms. Meanwhile, the discovery of peculiar explosions often challenges our application of standard SN physics to such emerging classes. SuperVirtual 2022 will address many of these developments - providing a review of SN observations and physics, while exploring the limits of our current understanding of the processes driving SN diversity.
There is now strong consensus that the majority of hydrogen-rich SNeII arise from massive red supergiant stars. However, there is still disagreement on the exact mapping from progenitor and explosion properties to transient characteristics. The last decade has seen mounting evidence that at least a significant fraction of stripped-envelope-SNe arise from binary systems, although which envelope-mass stripping process dominates for which progenitors is still debated. In addition, it now appears that ejecta-CSM interaction is not only important for our understanding of narrow-line SNeIIn, but may also be critical for many other SN types - especially at early times in their evolution. This understanding is being enhanced by advances in survey and follow up capabilities - observations of which will be discussed at this meeting.
Knowledge of the progenitors and explosion mechanisms of SNeIa continues to grow, with larger statistical samples in addition to higher quality data of individual explosions. Such data includes observations within hrs/days of explosion, affording investigation into the prevalence of early 'excess emission' that constrains the progenitor scenario. Very late-time observations constrain the isotopic abundances produced in SNeIa, thus constraining the explosion mechanism. However, it is still unclear which progenitor systems produce the bulk of the SNIa population. This conference will provide a platform to discuss new observations, progenitor and explosion modelling, and possible future strategies to constrain the SNIa phenomenon.
The number of 'non-standard' SNe also continues to grow. Samples now exist of exotic explosions such as superluminous SNe (SLSNe) and SNeIbn. However, in the former it is still unclear which powering mechanism enables such large luminosities, while the properties of the latter challenge our understanding of late-time stellar evolution. Meanwhile, the diversity and number of 'peculiar' thermonuclear SNe continues to grow - from SNIax to .Ia explosions. SuperVirtual 2022 will motivate discussion on the state of the art of the explosion physics and progenitor evolution required to explain these diverse events. There are also a number of classes where only a few well-observed events exist. 'Fast transients' (coming in different flavours with different nomenclature - e.g. 'FBOTs') have timescales making them difficult to observe, but additionally have properties that are difficult to understand without invoking exotic physical scenarios. One of the most recent additions to the SN family is the SNIcn class, which further stretches the family of SNe that are significantly affected by ejecta-CSM interaction. Finally, together with these new classes, a larger number of SNe are discovered with specific features that also require an extension of any standard SN model - e.g. short timescale modulations in light curve shapes.
A full understanding of the SN phenomenon and its diversity is only possible through comparing transient observations with predictions from explosion models and stellar evolution. At SuperVirtual 2022, SN observations will be confronted with the latest modelling of stellar explosions to survey the current landscape of SNe; their numerous different classes; and their progenitor populations.
-------------------------------------
El Observatorio Pierre Auger abre la convocatoria a la edición 2022 de su Feria de Ciencias
Fecha: 16 y 17 de noviembre de 2022
Más información: https://visitantes.auger.org.ar/index.php/feria-de-ciencias-auger-2022/
-------------------------------------
OLIMPIADA ARGENTINA DE ASTRONOMIA 2022
El Observatorio Astronómico de Córdoba de la UNC, la Facultad de Ciencias Astronómicas y Geofísicas de la UNLP y el Instituto de Ciencias Astronómicas de la Tierra y el Espacio - UNSJ (ICATE-CONICET) invitan a participar de la Olimpiada Argentina de Astronomía 2022 (OAA).
Para esta edición la Olimpiada Argentina de Astronomía propone para este año el siguiente Tema de Investigación para la Modalidad Especial: «Consecuencias de la conquista del espacio: la basura espacial»

FECHAS IMPORTANTES
Fecha límite INSCRIPCIÓN (ambas modalidades): Miércoles 31 de Agosto de 2022
EVALUACIONES:
Primera evaluación (Examen de preselección): Martes 13 de Septiembre de 2022
Segunda evaluación (Examen Final): Jueves 10 de Noviembre de 2022
MODALIDAD ESPECIAL:
Fecha límite para la presentación de trabajos Viernes 23 de Septiembre de 2022
-------------------------------------------------------------------------------------------------
La Olimpíada es una competencia de carácter NACIONAL en el área del conocimiento correspondiente a la Astronomía y actualmente tiene dos modalidades de participación: la MODALIDAD TEORICO-PRACTICA y la MODALIDAD ESPECIAL.
La modalidad TEORICO-PRACTICA contempla la participación de alumnos de los establecimientos educativos de nivel secundario (nivel medio).
La MODALIDAD ESPECIAL contempla la participación de estudiantes y/o personas con DISCAPACIDAD INTELECTUAL que estén incluidas en establecimientos educativos de nivel secundario (nivel medio) y/o que asisten a instituciones que trabajan con personas con discapacidad (establecimientos de modalidad especial, centros de día, fundaciones, etc.).
La participación en la Olimpíada es totalmente voluntaria y sin costo.
Por consultas dirigirse a Comisión Organizadora de la OAA
Correo Electrónico: olimpiadaaa@observatorio.unc.edu.ar
Página web: https://oaa.oac.unc.edu.ar
Facebook: https://www.facebook.com/olimpiadaargentinadeastronomia?fref=ts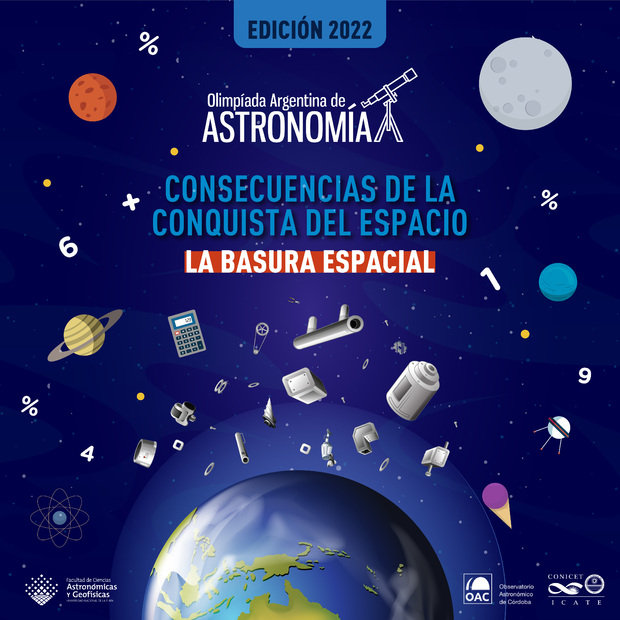 --------------------------------------
CONGREMET XIV: Ciencias ambientales para la transformación social
A la comunidad asociada al CAM
El Comité Organizador del próximo Congreso Argentino de Meteorología tiene el agrado de invitarle a participar del CONGREMET XIV, a realizarse entre los días 7 y 11 de noviembre de 2022 en la Ciudad de Buenos Aires.
El lema propuesto para CONGREMET XIV es "Ciencias ambientales para la transformación social", puesto que queda por explorar una gran cantidad de conocimiento acumulado en las diferentes disciplinas ligadas a temas socio-ambientales. Asimismo este Congreso se propone fortalecer la integración interdisciplinaria para avanzar en el entendimiento del planeta pensado como un sistema complejo.
Adjuntamos la segunda circular y se agradece su amplia difusión.
Saluda atentamente,
Comité Organizador CONGREMET XIV
http://cenamet.org.ar/congremet/
Redes sociales
https://www.facebook.com/congremet
https://www.instagram.com/congremet/
------------------------------------
Primera Circular Workshop "Science with LLAMA"
Fecha y lugar: 5 al 9 de septiembre, Salta, Argentina.
---------------------------------------
Para escuelas - 14° Concurso Nacional de Relatos, Historietas y Cuentos Cortos "Contemos la Ciencia" - Tema: "el Vidrio"
La Academia Nacional de Ciencias, con el objetivo de promover el interés de niños y jóvenes por la ciencia y la literatura, convoca a estudiantes de Nivel Inicial, Primario, Medio y Especial, a participar de un concurso de relatos, historietas y cuentos cortos relacionados con "el Vidrio".
La Asamblea General de Naciones Unidas aprobó que en 2022 se conmemore el Año Internacional del Vidrio, para darle relevancia a este material "sumamente reciclable, limpio, reutilizable, sustentable y aplicable en diversidad de sectores".
El vidrio es un material transparente, duro pero frágil, que se encuentra en la naturaleza y que las antiguas civilizaciones aprendieron a producir fundiendo arenas de sílice u óxido de silicio (SiO2) a unos 1500 °C. El SiO2 también se encuentra en forma de cristales de cuarzo. Aunque en los cristales, como los granitos de sal común o de azúcar, los átomos y moléculas, respectivamente, conforman un arreglo periódico y rígido, en el caso del vidrio, las moléculas de SiO2 están dispuestas en forma irregular; por ello decimos que el vidrio es un sólido amorfo. Sin embargo, el vidrio es en realidad un líquido extremadamente viscoso.
Desde utensilios domésticos hasta obras de arte, desde los edificios a las comunicaciones por fibra óptica, el vidrio sigue siendo un material dúctil, económico y amigable con el ambiente que aún busca nuevas aplicaciones.
Por lo expuesto, la Academia Nacional de Ciencias decidió que, este año, el tema del concurso "Contemos la Ciencia" sea "el Vidrio". Se trata de usar la imaginación, de ser claro y conciso, de disfrutar de la escritura, de mostrar conocimiento del tema que se describe, y ser original. No hay aspectos del tema mejores que otros: todos son importantes. La diferencia la harán las palabras que cada uno emplee para contar lo que ha elegido contar.
EL PLAZO DE RECEPCIÓN DE LOS TRABAJOS VENCE EL MIÉRCOLES 31 DE AGOSTO DE 2022.
Informes o consultas
Comisión de Extensión
Academia Nacional de Ciencias
Tel.: 0351 4332089 / 4216350
WhatsApp: +54 9 3517 300839
Correo electrónico: extension@anc-argentina.org.ar
Consultar el Reglamento en nuestro sitio web: http://www.anc-argentina.org.ar/es/actividades/para-escuelas/concurso-nacional-de-relatos-historietas-y-cuentos-cortos-contemos-la-ciencia/14-concurso-nacional-de-relatos-historietas-y-cuentos-cortos-contemos-la-ciencia-tema-el-vidrio/
---------------------------------------------
2° Circular VII CACyG- San Juan 2022
Estimados colegas:
Les adjuntamos la 2° circular de nuestra próxima Reunión a realizarse en San Juan, el VIII Congreso Argentino de Cuaternario y Geomorfología, los días 19 al 23/09/22. Los invitamos a visitar además nuestra página web https://cacyg2022sj.com.ar/
Los invitamos a enviar sus propuestas de sesiones temáticas y de cursos. Agradecemos lo compartan con sus equipos de trabajo.
Los esperamos en San Juan!
Saludos cordiales!
VIII Congreso Argentino de Cuaternario y Geomorfología
--
COMISION ORGANIZADORA CACYG- SAN JUAN
Actualizado el 11/08/2022